Room With a View Catalogue, Jorge Nesbitt
The Jeanne Bucher Jaeger – Lisboa Gallery have presented for the first time the work of Jorge Nesbitt. The solo exhibition, "Room With a View", opening on 18 October until 22 December of 2018 include his latest Linocuts, a technique used by the artist since 2015. The gallery published a catalogue for the occasion, including the totality of Jorge Nesbitt's Linocut work, between 2015-2018.

Role: Designer
Services: editorial design, collateral
Gallery Photography: Ricardo Oliveira Alves
Year: 2018
Millennium bcp 2018 Annual Report
Millennium bcp is the largest Portuguese private sector bank. For Millennium bcp 2018 annual report, they asked us to create a more meaningful digital presence in order to present the results to investors, supervisory bodies and with the market in general.
Visit website↗︎
Role: Designer
Services: editorial design, user interface design
Year: 2019
in collaboration with
Choice
The Work
In systematic terms the microsite is arranged in a horizontal hierarchy, this approach revealed to be the optimal browsing practice because it allows users to direct their focus of attention, by helping them to search for information about the results simply and directly.
---
Homepage is positioned to focus on the highlights of the Annual Report
---
Mobile breakpoint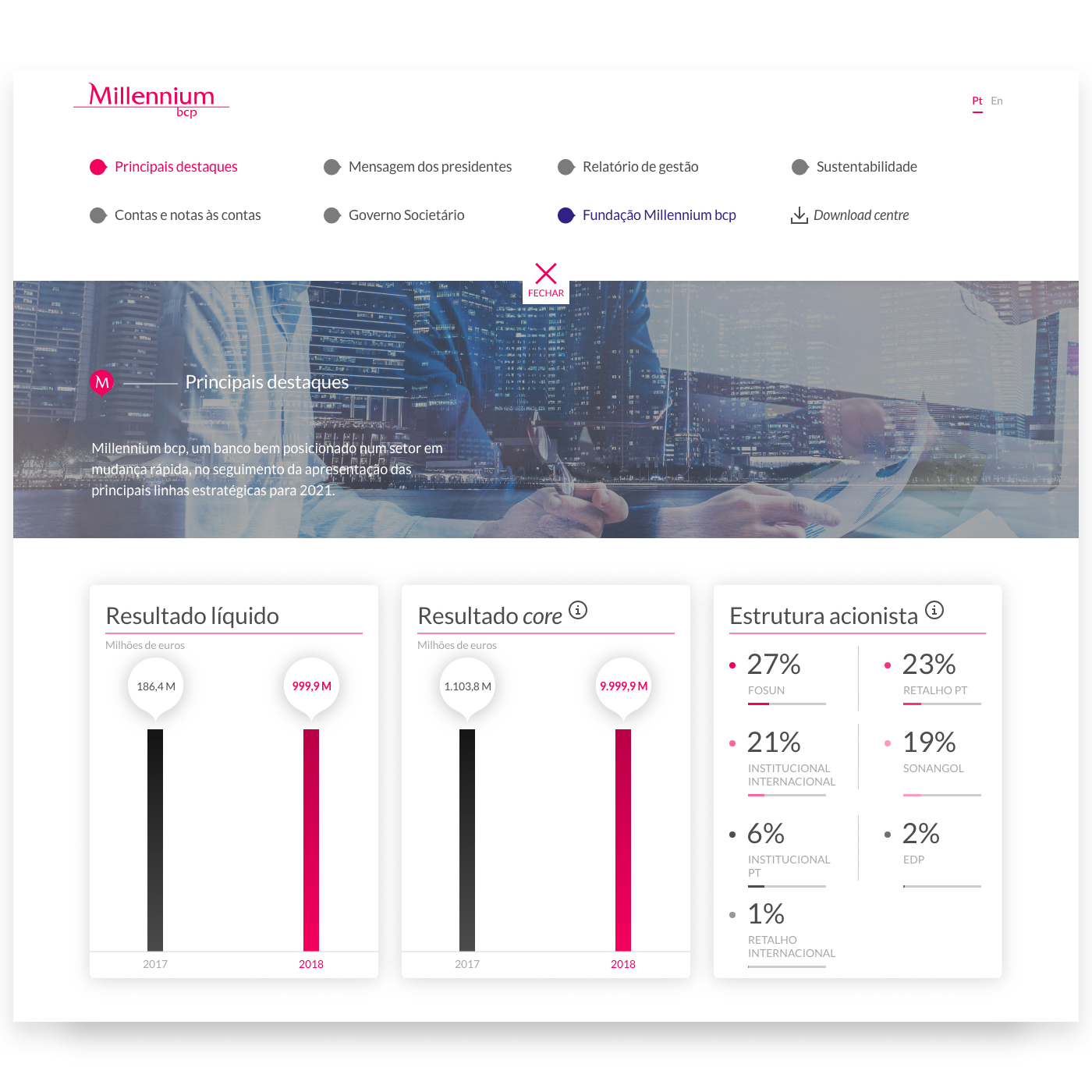 ---
Fixed Menu | Quick view of all sections
In a first instance, the user has the possibility to view the major areas of the year results. The main areas of the website are: Key indicators; Message of the Chairmen; Management Report; Sustainability; Accounts and Notes to the Accounts; Corporate Governance; and Fundação Millennium bcp. Each section has a brief introduction, allowing users to have an overview of each navigation area.
---
Cards with key indicators data
The horizontal layout is maintained, and the information can be viewed through interactive hover or click/tap behaviors.
---
Millennium Network Map
---
Featured Highlight numbers by region
One of the main premises was that users had the control of what they want to watch.
---
Timeline of major events
---
Data charts from the Sustainability section
---
Financial statements spreasheet tables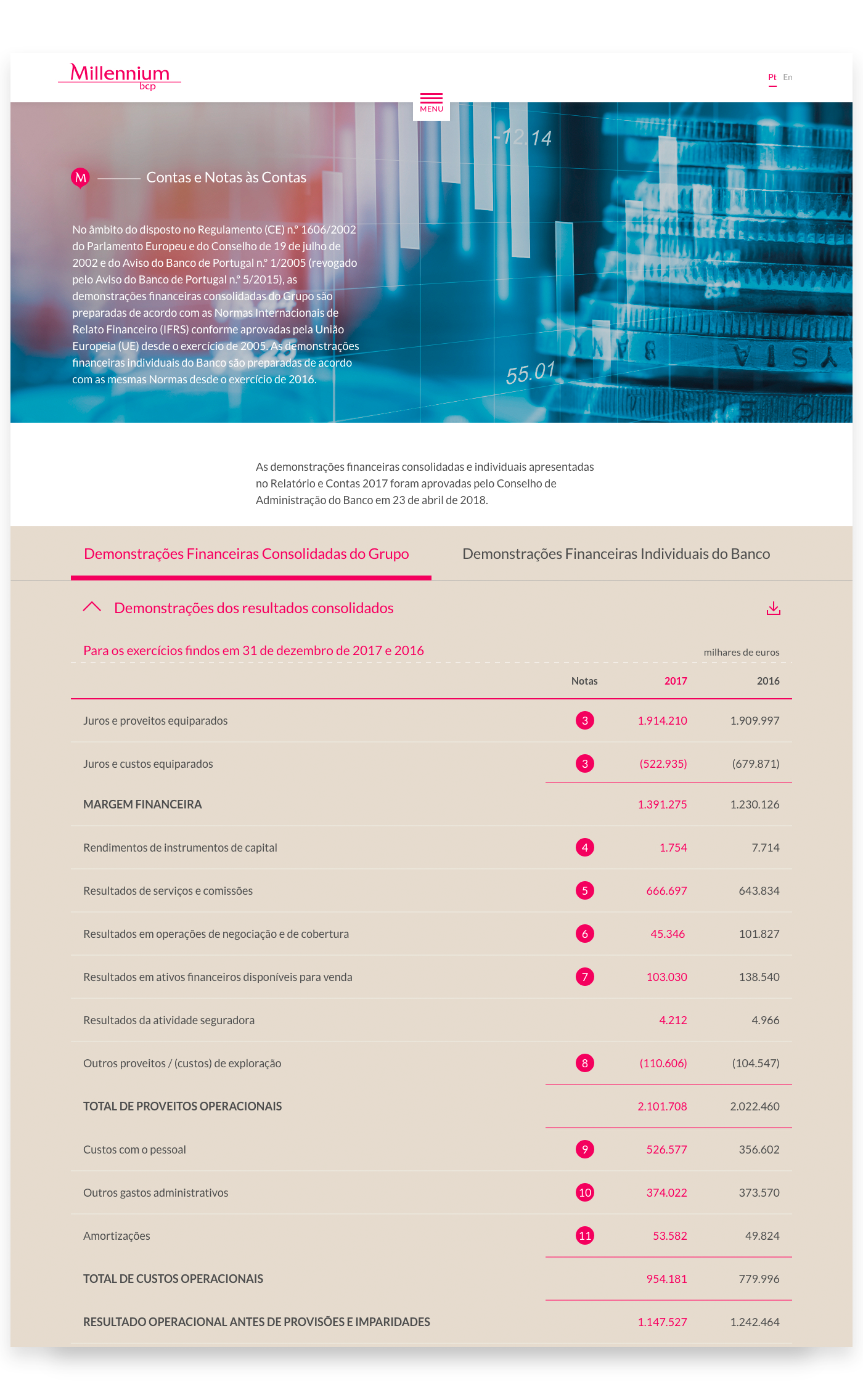 ---
Executive Committee interactive detail
---
Fundação Millennium bcp section title treatment
---
Download centre
Regarding the visual design, Millennium bcp want to feel fresh, smart and friendly and let the content speak to those points. To do so, we inspired in the Swiss design influences but with a Mediterranean flair, using its formal vocabulary but giving it a contemporary and robust feel.
Rita Valadão Identity
Rita Valadão is an Architecture and Interior Designer that change the way people live physical spaces. Started her practice in 2009 in the fields of Architecture, Decorative Arts and Interior Design. She was recognised in 2014 and 2015 by the prestigious international award "A' Design Award & Competition" in Milan in the Category A' Furniture Decorative Items and Homeware Design.

Role: Designer
Services: strategy, identity design, collateral
Office Photography: Ricardo Oliveira Alves
Year: 2018
The logo is constituted in Capitalized Case. The balance between uppercase and lowercase strengthen and enrich values of individuality and integrity. Some characteristics have been modified in the letters "T" and "L" giving more personality, rhythm and harmony to the wordmark.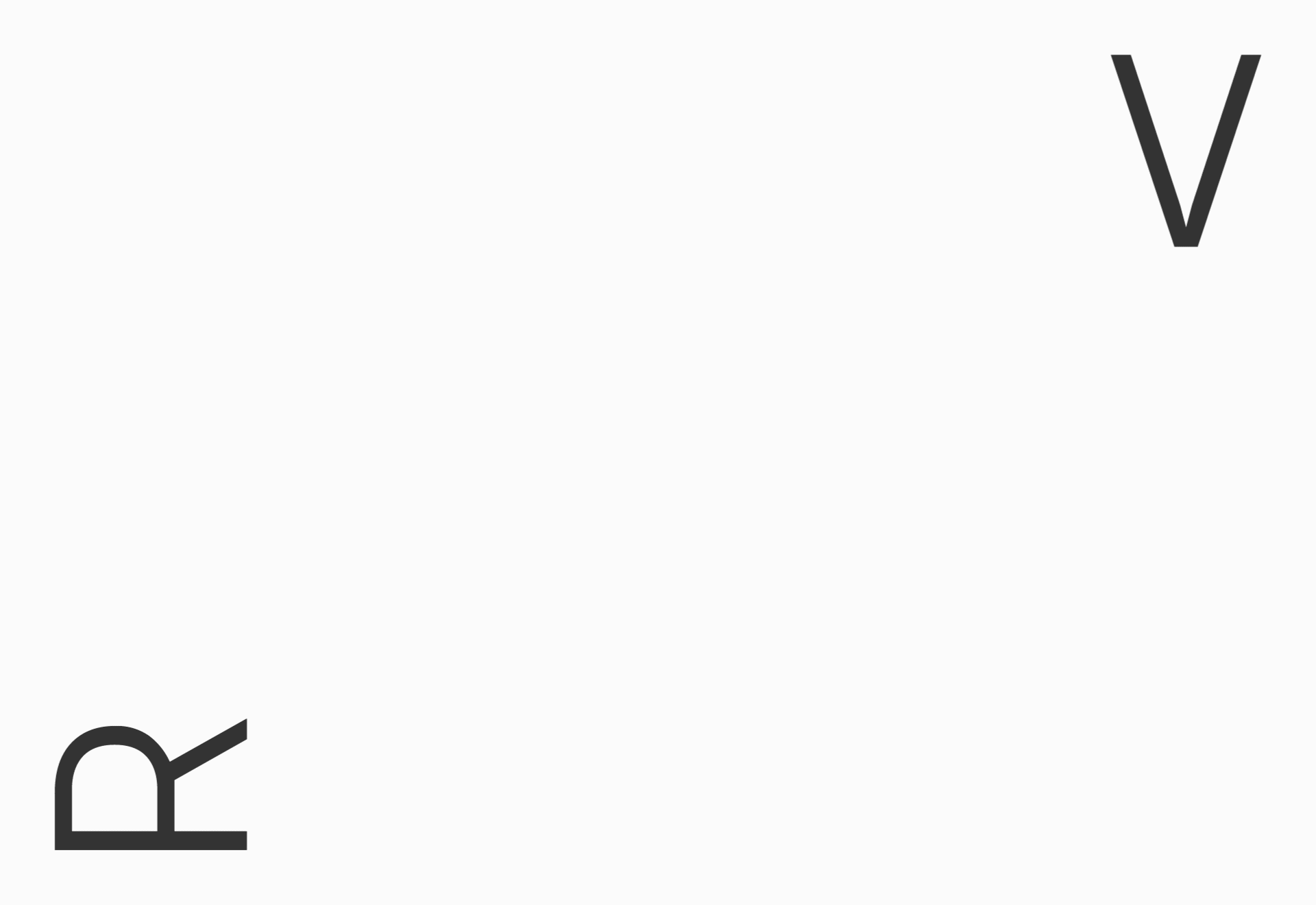 The Monogram makes the following assumption: How to perform graphically the brand Rita Valadão in a space? And at the same time demonstrate structure, versatility and adaptability, reinforcing the collaborative, practical and formal approach of Rita Valadão.
Visuelt is a grotesk type family historically associated to the universe of architecture and design. This will give them values such as individuality, simplicity and purpose.
The colours and materials add personality, distinction and objectivity to Rita Valadão identity. The primary colour palette is neutral, simple and functional. The secondary colour palette brings out values of individuality and soberness without losing any of the pragmatic state of the primary colour palette.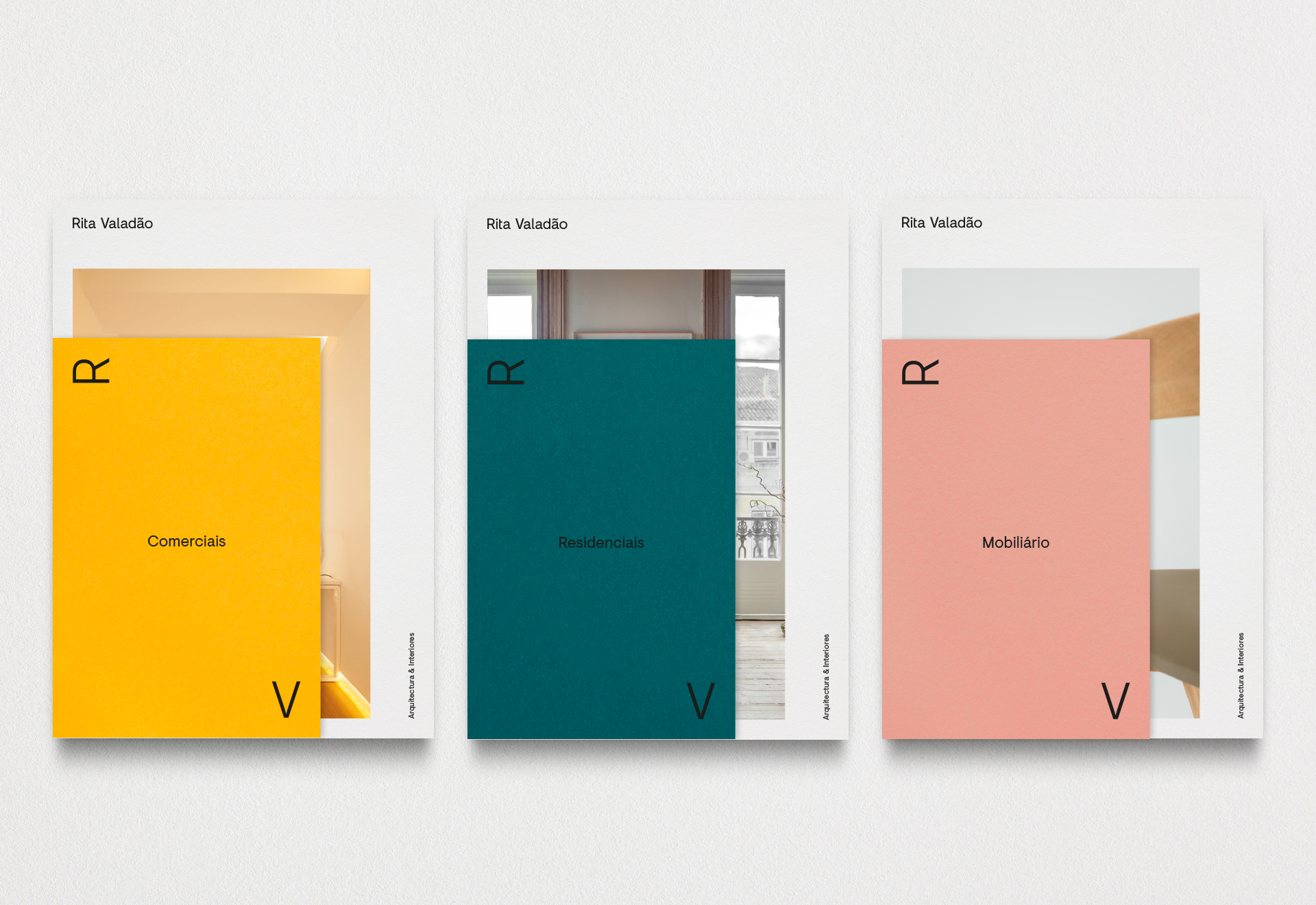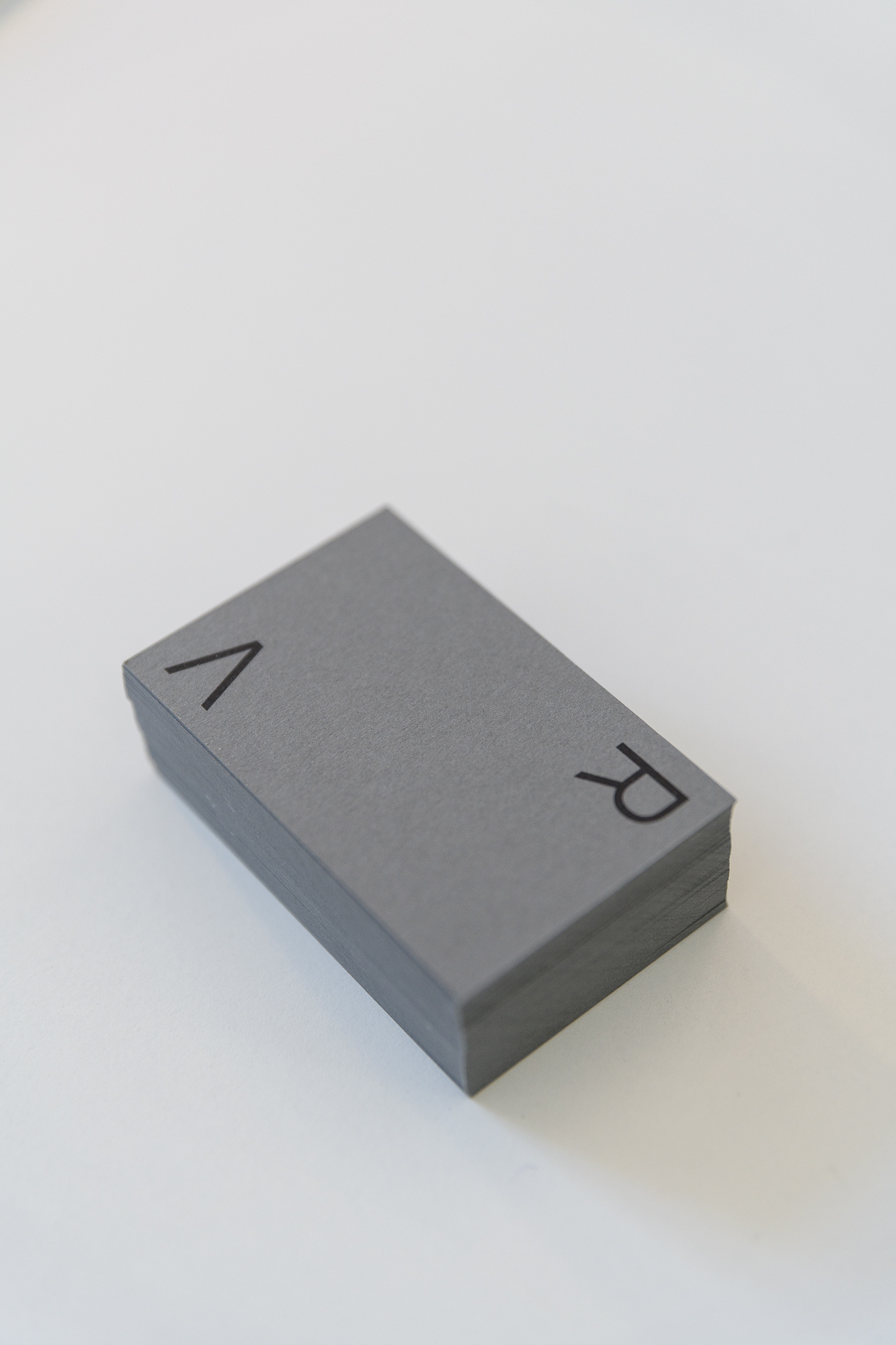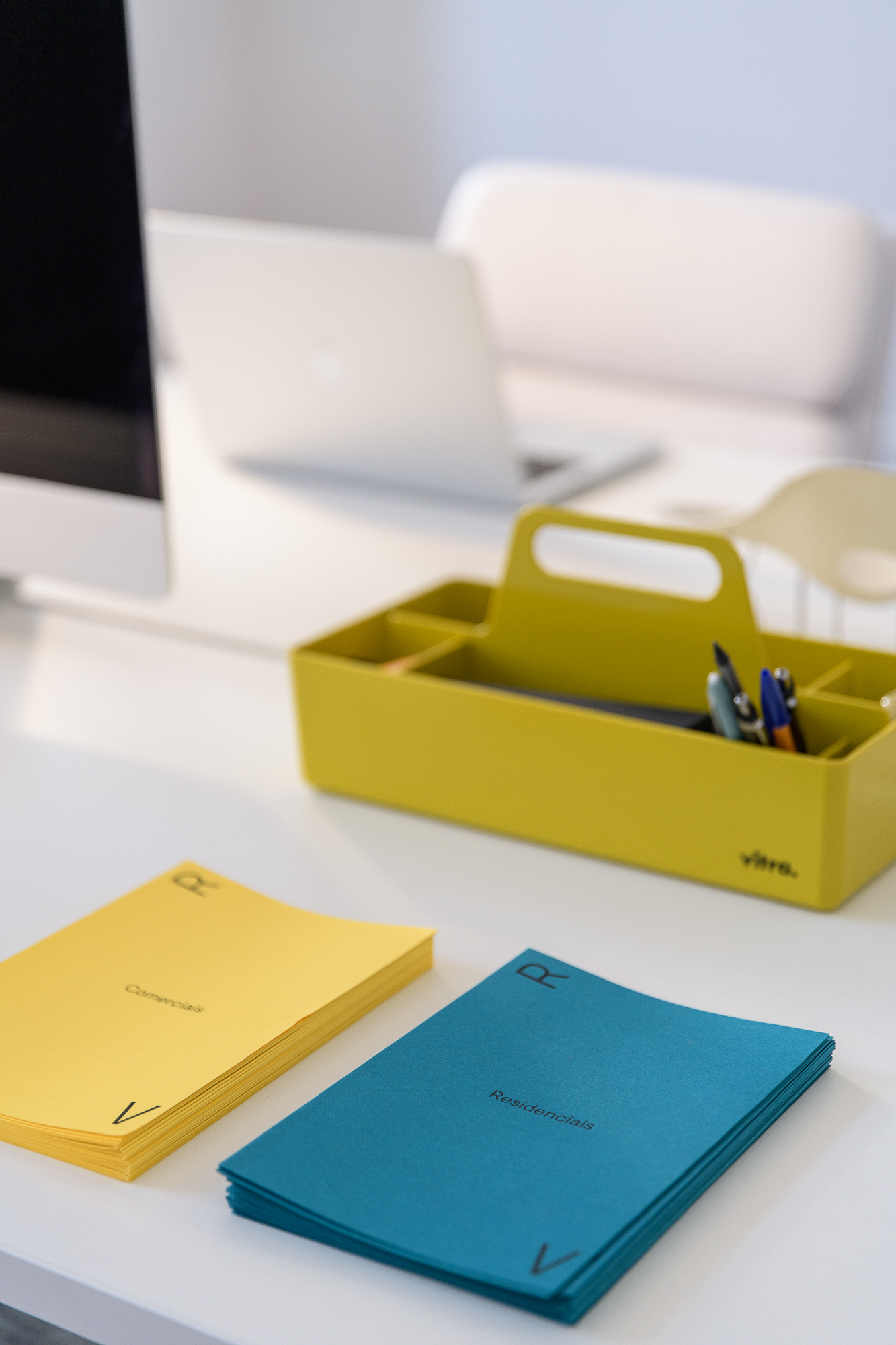 Meaningful Works Identity
Based in Lisbon, Meaningful Works is a coaching boutique that offers custom made solutions with a customer-centric approach. Meaningful Works is dedicated to activate the full potential of people and organizations through the areas of Individual Coaching, Executive Coaching, Leadership Coaching, Team Coaching and Change Management.
Full case study coming soon.
Role: Designer
Services: strategy, naming, identity design, collateral, website design
Year: 2019
in collaboration with
Choice
Bandit Garage Identity
Bandit Garage was created by Nuno Oliveira who dedicates himself to the cult of the cafe racer and custom. After buying is Honda CB750 Four, Nuno became an enthusiast of cafe racers and become an expert in finding the best models and transforming motorcycles in his studio. Shortly after, he decides to build his own platform to share his acquisitions, creations and other novelties about the world of custom.

Role: Designer
Services: strategy, identity design, collateral
Year: 2017
He asked me to create a new visual identity that tells a more compelling story about his brand, reflecting the heritage and passion for this cult.
The visual perception and the interpretation of a brand by the audience, it's a fundamental element in a identity. A good identity comprises around a great story – his concept. With this in mind I created an identity that seeks influences from the name "Bandit" and from decades of 1950 to 1970. In this individualistic universe exist a certain revolutionary spirit with different external influences like punk, skate, surf, in other words, a relentless quest of thrill. The ideas related to this identity are boldness, rudeness and spontaneity. Through this narrative is was intended to raise awareness from the audience to this world of cafe racers.In terms of typography and lettering I seek to represent the decades and the lifestyle associated to this style. The badge was inspired in punk scene expressing the ethos of the brand.